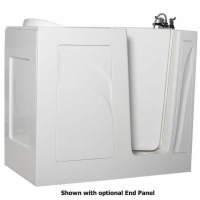 The Sanctuary Deep Water is a deeper version of the Sanctuary walk-in bathtub. Its taller height gives greater water depth. It comes complete with its own faucet and a 17" contoured seat. It has an inward swinging door and anti-slip surfaces.
Best Feature: The Deep Water provides almost 47 inch high side walls for deeper water immersion.
Our Recommendation: Taller customers should consider the Deep Water since they will be able to remain upright yet have the water still come up to a reasonable height.